The North Lincolnshire Green Energy Park will lead to significant local and national benefits, including job creation. We must also identify and manage any impacts.
Environmental Impact Assessments
The North Lincolnshire Green Energy Park will be designed to be sustainable and to capture and use as many by-products of the energy recovery process as possible. However, as with any major infrastructure project, we recognise that the DCO Scheme has the potential to cause some environmental impacts, but it also offers the opportunity to create enhancements. For example, the DCO Scheme is likely to include planting as screening and for biodiversity reasons, which will also help absorb carbon dioxide. Ash treatment will remove potential contaminants and dioxins, and carbon dioxide capture will further clean flue gases.
All potential environmental impacts will be identified, minimised as much as possible and managed. To this end, habitat surveys have been undertaken over the past two years. We will produce and submit a thorough Environmental Impact Assessment with the application for consent submitted to the Secretary of State. This will be produced in line with the Planning (Environmental Impact Assessment) Regulations 2017 and will include detailed assessments of the DCO Scheme's potential impacts on matters such as: landscape and visual amenities; existing road and other transport infrastructure; noise and vibration; socioeconomics; cultural and archaeological heritage; pollution and air quality; water and ground conditions; and any cumulative effects. The Environmental Impact Assessment will identify and propose suitable mitigation.
The Environmental Impact Assessment is a long-term process, which needs to take place over time. From the start, we need to agree the types and scope of assessments we carry out with regulatory bodies such as Natural England and the Environment Agency. We are early in this process and will present further information on this at the statutory consultation.
Initial environmental constraints plan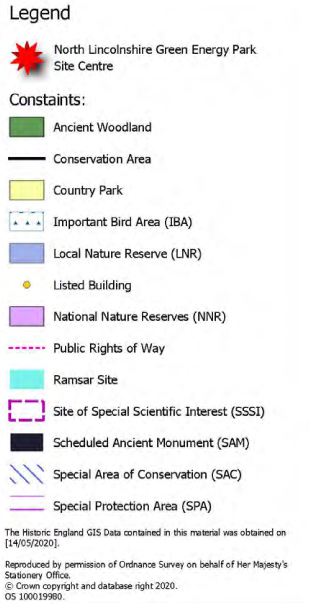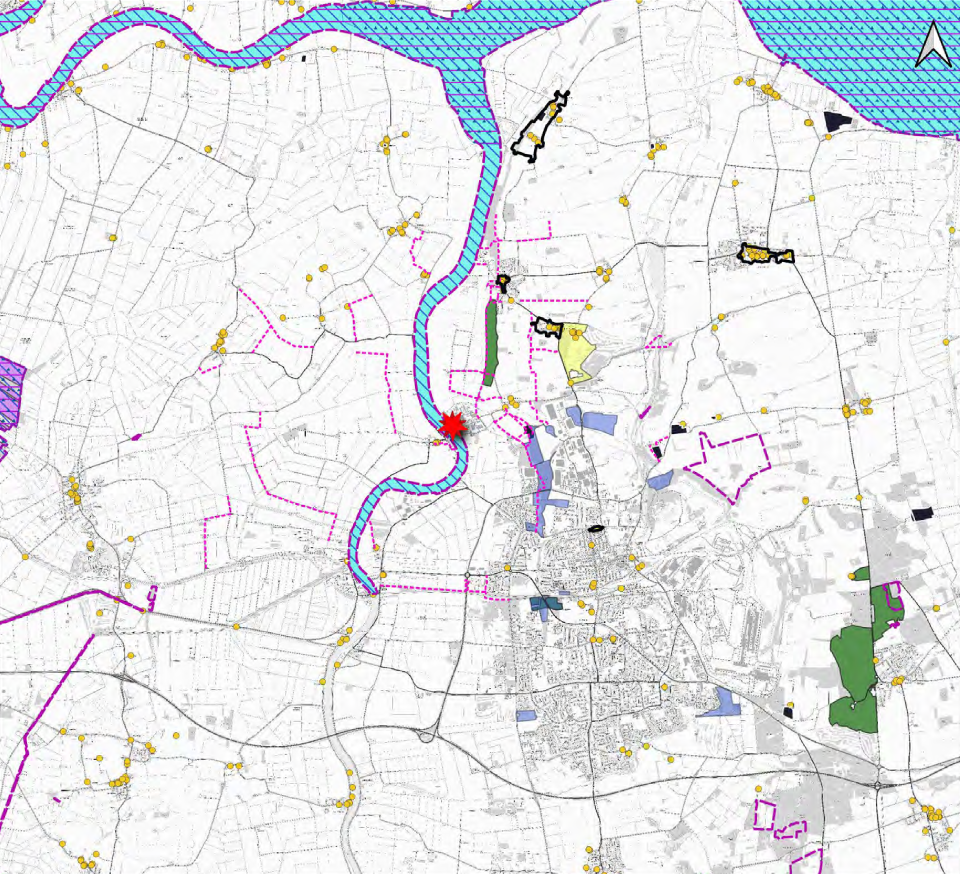 Initial environmental constraints plan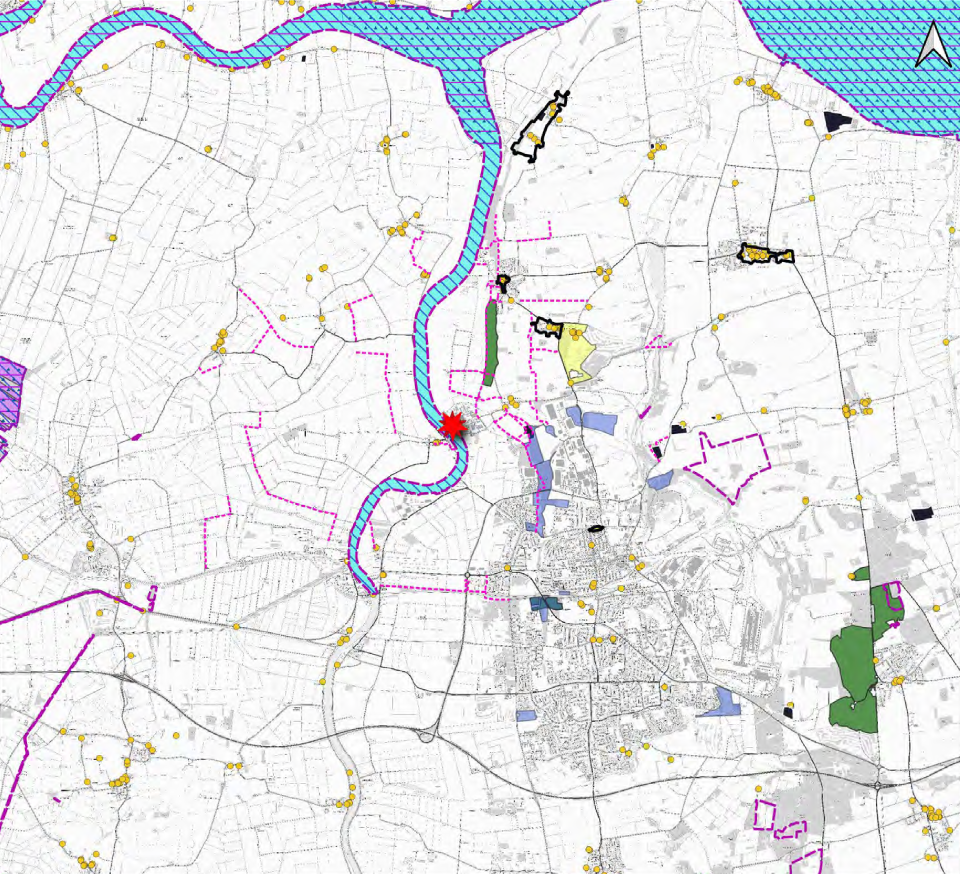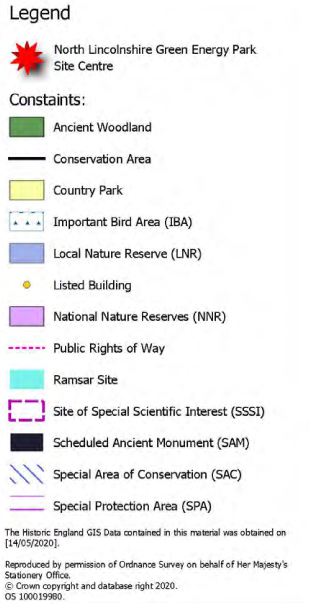 Transport and access
The site already benefits from excellent transport links. Our aim is to maximise the use of the jetty and the rail link. Flixborough Port, which has the capacity to handle in excess of 600,000 tonnes per year of goods by sea, will remain operational, co-located with the Energy Recovery Facility.
It is proposed that the North Lincolnshire Green Energy Park will be accessed by rail, river and road. These elements will form part of the Development Consent Order application.
RAIL
The private 9km long, single track railway line that connects Flixborough Port with the steel works at Scunthorpe will be cleared and brought back into use to transport refuse derived fuel, ash, and concrete products. We will also apply as part of the Development Consent Order application to build a new railhead where the railway line joins the new extended jetty.
RIVER
We will utilise the River Trent via Flixborough Wharf. We will be applying as part of the Development Consent Order to extend the existing jetty from 180m to 380m.
ROAD
Flixborough Industrial Estate is close to the A1077 and is connected to the strategic motorway network via the M181, located approximately 5km to the south. As part of the DCO Scheme, we will build a new link road from the Flixborough Industrial Estate to the A1077 to reduce impacts on nearby homes and improve access from the south.
SUSTAINABLE TRANSPORT
We will also work to decarbonise local transport. The proposals will include electric vehicle charging and a hydrogen refuelling station. This could support a hydrogen bus pilot scheme in Scunthorpe.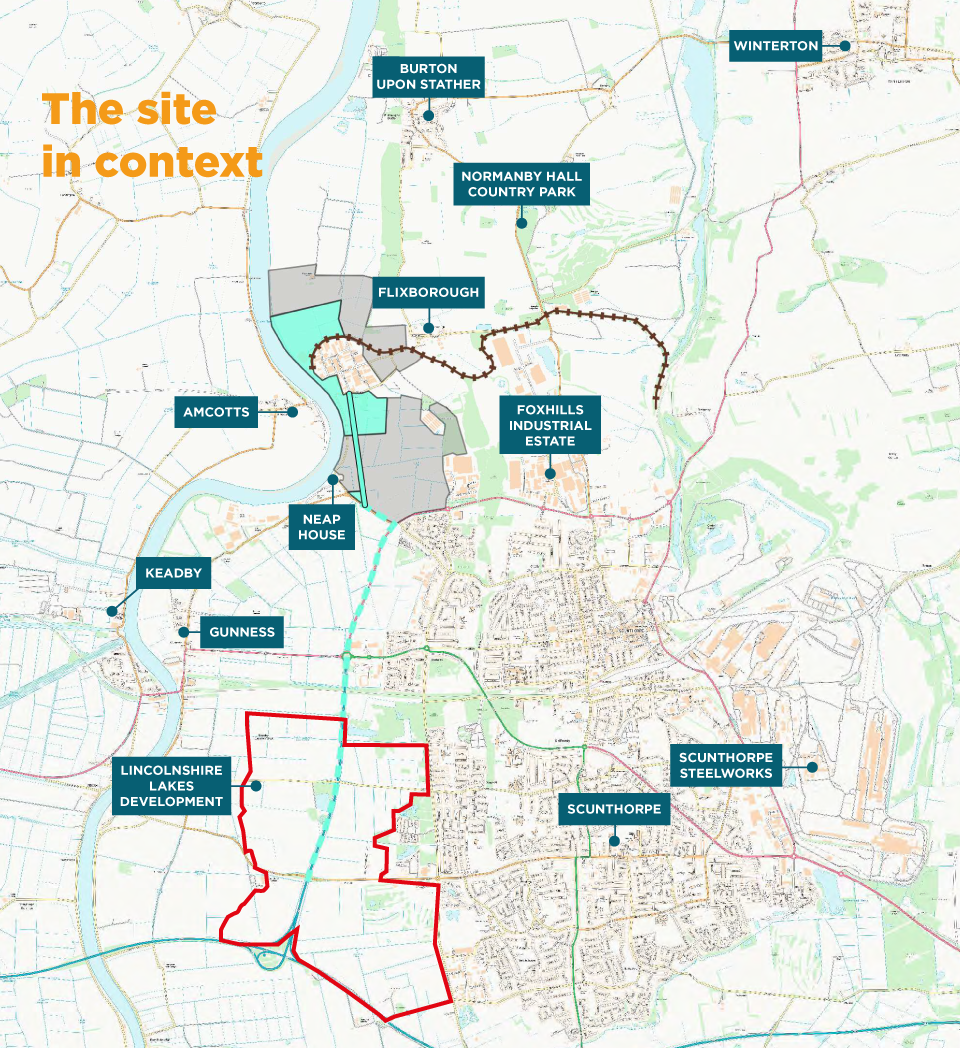 Health and safety
The health and safety performance of the North Lincolnshire Green Energy Park is of utmost importance to Solar 21. Our commitment to employees and the local community is that their continued well-being and safety will always be our highest priority.
Well managed energy recovery sites are safe, and there is a long and proven track record of reliability and efficiency in this highly regulated sector.
Any emissions will be managed by state-of-the-art air pollution control and filtration systems. The Environment Agency sets and rigorously enforces the emissions limits for energy recovery facilities, which ensures every site operates within the legal parameters.
Register for updates
If you want to be kept updated on our plans for North Lincolnshire Green Energy Park, fill in your details below.