The Energy Recovery Process
The process used to recover energy from waste left over after recycling at the North Lincolnshire Green Energy Park will make it one of the cleanest and most efficient facilities of its type in Europe.
The Energy Recovery Facility will process refuse derived fuel to heat water into steam, which will turn a turbine to generate electricity. Refuse derived fuel is made from unrecyclable elements of your black bag waste and is a greener alternative to fossil fuels. Carbon dioxide, created as a result of this process, will be captured and cleaned from the exhaust gases and other emissions will be neutralised or mitigated prior to release.
There are very strict rules and regulations which set out what emissions can be released from energy recovery facilities via the chimney/stack as a result of the recovery process. We will work within these strict limits and along with the regulatory authorities may monitor what is released from the facility using an automatic system, operating 24 hours a day.
The aim is for the project to be able to capture, store and use as many of the byproducts from the recovery process as possible, including carbon dioxide and ash. The ash from the energy recovery process may be treated and used on site to manufacture concrete blocks for use in construction, and the carbon dioxide will be used for glasshouse crop production.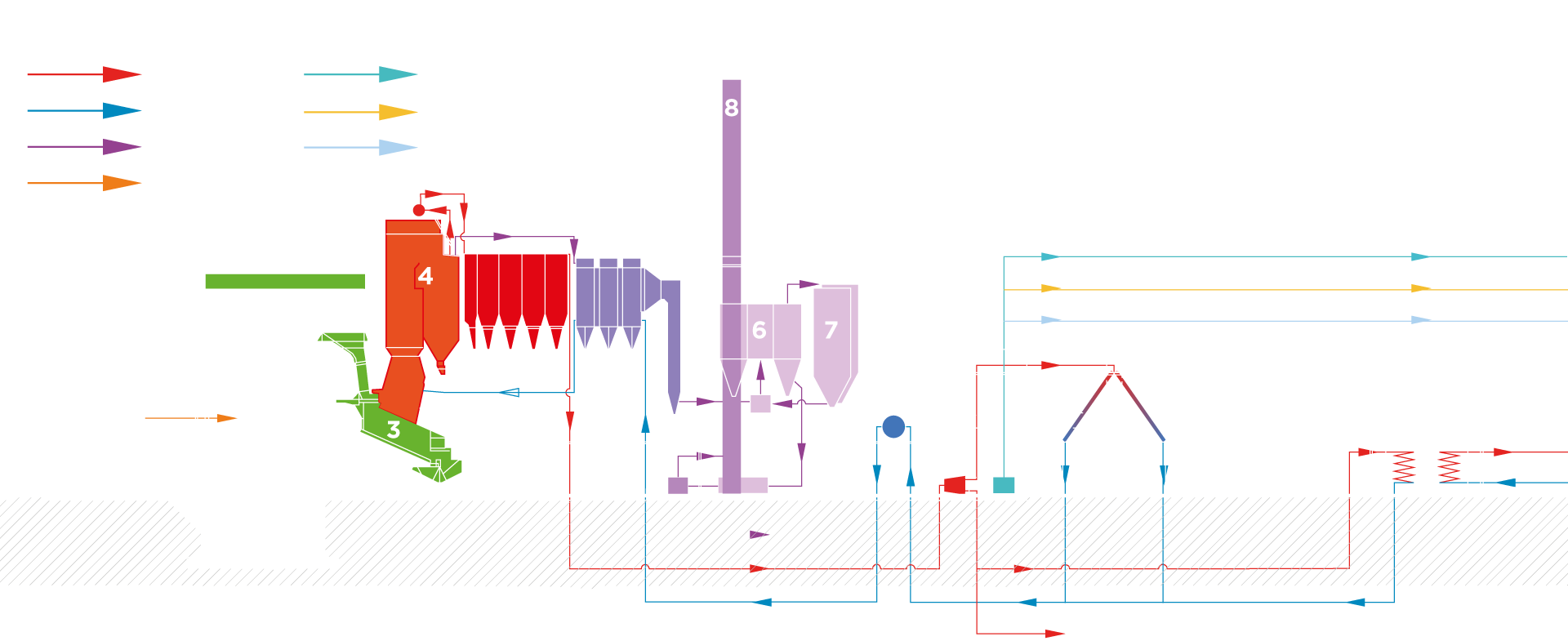 Storing Energy
Effective energy storage helps provide more energy for the nation to use as and when it is needed. Energy will be stored at the North Lincolnshire Green Energy Park using a variety of methods:

10MW OF HYDROGEN PRODUCTION AND STORAGE
Hydrogen is produced by electrolysis using hot water from the Energy Recovery Facility. Hydrogen is the most efficient method of long term energy storage. 120 TONNES OF THERMAL ENERGY (STEAM) STORAGE
We will capture and store excess heat as steam, and it will be possible to make this available for district heating in the local area to lower costs and increase energy efficiency. The ability to manage excess heat will feed the district heat system and lower domestic carbon usage.

30MW OF BATTERY STORAGE
This method will provide resilience to the National Grid. It will ensure there is a supply of stored electricity resources which can be released when local and network demands are high. It will also ensure that the electric vehicle charging station will use o-peak power to charge vehicles at peak demand. Register for updates
If you want to be kept updated on our plans for North Lincolnshire Green Energy Park, fill in your details below.